I've found myself in a situation lately where I've had to make lots of birthday cakes at very short notice! So I've just made a plain cake and then looked for easy ways to jazz it up.
Edible flowers
I headed to Etsy to see what I could find in the way of edible, or food safe flowers and was really pleasantly surprised. There are lots of options from people such as Polly's Petals to get edible flowers or food safe dried petals delivered quickly and for not very much money. I paid about £10 for a large bag of petals which will do several cakes as long as I keep them dry in a dark cupboard. I used them to decorate doughnuts for my party (check out how I displayed them on an amazing stand here) and my own birthday cake and I think I'll be rolling them out for my mother-in-law too.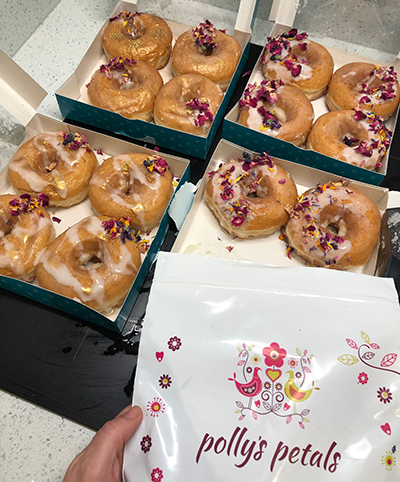 Fake flowers
For my mum's cake (which uses the Hero recipe) I bought some fake flowers from Amazon (affiliate link). Just small little buds that I had cascading down the side of a rainbow cake. Now, I'm not sure that these are food safe so we stayed away from the parts of the icing that they'd been in touch with, but I possibly could have Dettol'd them if I'd had more time. (I loved the look of this cake but when I said I thought it was one of my best, my husband and son were quite shocked and then got quite honest with the feedback! It is a little wibbly wobbly but I just loved the colours!)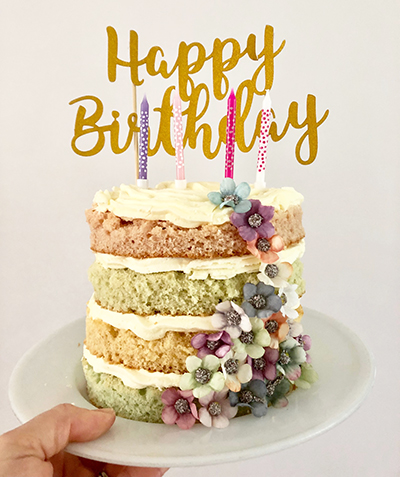 Cardboad decorations
The easiestcake decoration is one where you can just stick something on the front as I did with this Peter Rabbit cake. I bought this Peter from Etsy - on the website he's standing on top of a cake but I used him flat on the side based on something I'd seen on Pinterest.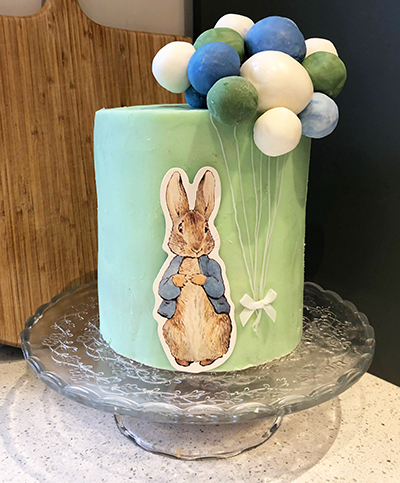 I've also done the same with a unicorn cake where you stick on the eyelashes and even a reindeer cake which is actually the same as a unicorn cake but it's got chocolate icing and you eat it at Christmas. If you can find paper shapes to stick on the front of a cake it can make quite a dramatic effect very very quickly and easily. And if you don't fancy icing a cake to be super smooth you can just buy ready-made cake from the supermarket and add your own decorations.