Why hold your wedding reception in a village hall? There are so many weird and wonderful wedding venues available to hire now a days, why opt for the humble community centre or church hall?
Well I'll tell you: there are so many reasons why village halls rock as wedding venues! If you want freedom of choice and budget left over for little luxuries you'd have to forgo if you opted for a pricey venue, then your local hall could be just the ticket!
Catering
Many grander wedding venues will either do the catering for your event themselves, or let you choose from a list of approved catering suppliers. Costs wise, this can mean your hands are quite tied, and your choice of menu will depend completely on what those caterers like to produce. Meanwhile most village halls have a well equipped kitchen with plenty of preparation space, where the caterers of your choice can cook whatever you want.

Teamed with this is corkage fees. A corkage fee is when a venue will let you bring your own wine or champagne, but you need to pay them for every bottle you open. This is - legitimately - to cover the use of their glasses, their staff in serving you the wine, and the time to wash the glasses afterwards. Because after all, they would otherwise make a mark up on their wine, and those are the things that goes to cover. But it can seem expensive! We viewed a lovely country pub as a potential wedding venue, but their wine was from £17 a bottle and they had an £11 corkage fee. In a village hall, check you've got a license to serve alcohol and then you can buy all the £6 pinot grigio you want!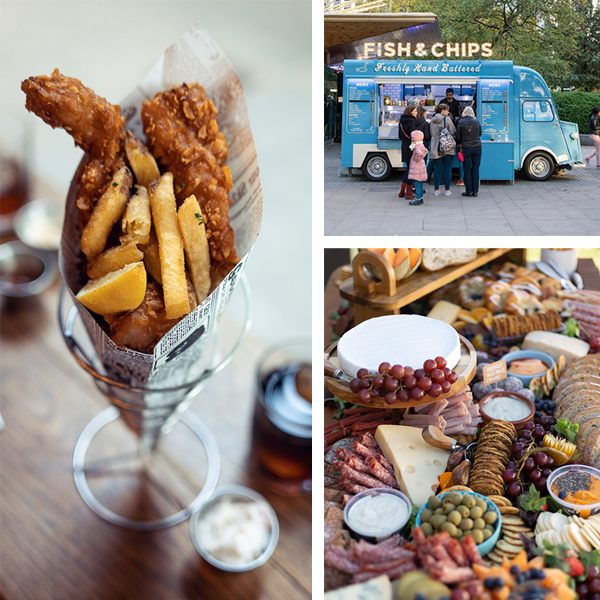 Capacity
Village halls can be large! If you need a big capacity for a lot of people then a village hall can give you plenty of space to lay out tables, and then later clear them away before getting the party started. They often have a stage meaning your disco or band can set up behind closed curtains and be revealed when you're ready, or even if that doesn't work for you, they have their own clearly defined space that doesn't eat into the room you've got for tables.
Speaking of tables...

Round or rectangular?
It might sound like a little thing, but do you want round or rectangular tables at your wedding reception? If your wedding venue already has beautiful oak rectangular dining tables, they're not really going to want to hire in round ones for you - and you're not going to want to pay an extra hire cost on top of the pretty penny you've probably already spent on the venue in the first place. Whilst a village hall may well have it's own trestle tables, for the price you've paid to hire the hall, if this really doesn't suit you you may well decide you can warrant the extra cost of hiring a different set of furniture.

Whether you have round or rectangular tables can really vary the look and feel of your wedding, and how people socialise. It can also effect, of course, whether you have groups of 6 sat together or groups of 10 - when you're planning your seating plan wouldn't it be great to have the flexibility of even being able to choose how many people you grouped together?! Round tables can look beautiful with all eyes set towards a centre piece, and many find round tables more sociable as it's easier to talk to more people. But rectangular tables are growing in popularity as room layouts mean they can all lead to the top table, and on-trend table decorations can run the length of the table, inspired by the huge upshift in home interior design where most people have rectangular rather than round dining tables.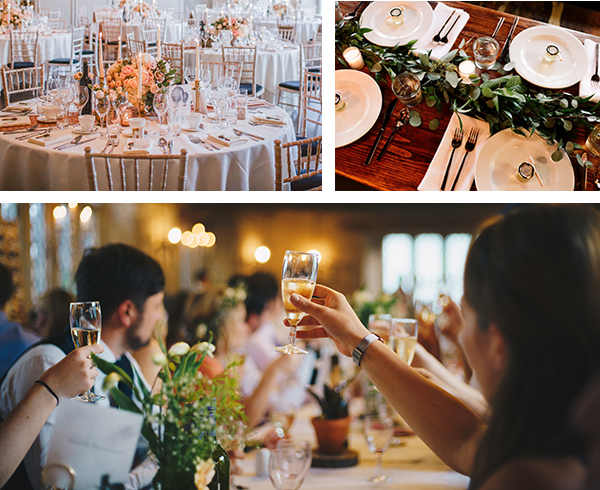 There's plenty of time
A major plus towards getting married in a village hall is the fact that you can generally hire it for a couple of days. If your wedding venue is going to cost you £40 to hire, then have it for the Friday too and take your time getting everything ready and exactly how you want it. Heck, splash out and get Sunday so you can clean up at your leisure and your Mum isn't having to do the washing up at 2am for you. Hotels or big venues often have another wedding the previous day but this isn't so often the case with village halls so you can really take the pressure off by giving yourself more time to set up.
Personally, we got married on a Saturday but there was another wedding at our venue on the Friday meaning our wedding day started at the crack of dawn for my husband, who stayed at the venue the night before, because he needed to get everything set up. And it meant I couldn't help at all - despite itching to - because of course, we couldn't see each other! And with an early service (because our vicar had to rush off to the judge the annual village vegetable competition!) there wasn't time for complicated logistics around who should be where when.
So for me this is a huge selling point - to be able to see that actually, you could do with dashing to The Range to pick up another white tablecloth, or you could do with that extra vase you've left at home after all. And then being able to stand back and soak it all in before the big day itself!
Price
Hinted at above, price is of course a huge selling point for village hall weddings. Whilst, yes, you need to get caterers and maybe even furniture, the actual venue hire itself, which can cost thousands and thousands at hotels or big houses, can literally be under £100. And whilst a village hall can feel a little bland compared to some stately homes, view it as a blank canvas which you can make your own! Just grab the right table settings and props and go modern, go country fete, go scandi - use some of your freed budget to decorate it however you want!
Images courtesy of Unsplash.com, specifically: @alasdairelmes, @tyedoring, @juliusjansson, @christofferengstrom, @jordanarnold and @thomaswilliam.